Our friends over at SharkNinja released another great product that we had the pleasure to collaborate on. Part of the Foodi™family, this anti-scratch nest system can help cooks regain space in their kitchen while ensuring proper non-stick surface protection. The set comes loaded with all the expected features of a premium set – ergonomic stainless steel handles which can withstand oven temperatures, dishwasher safe materials and surfaces, and a uniquely designed aluminum thickness and coating for optimal heat distribution and excellent non-stick functionality.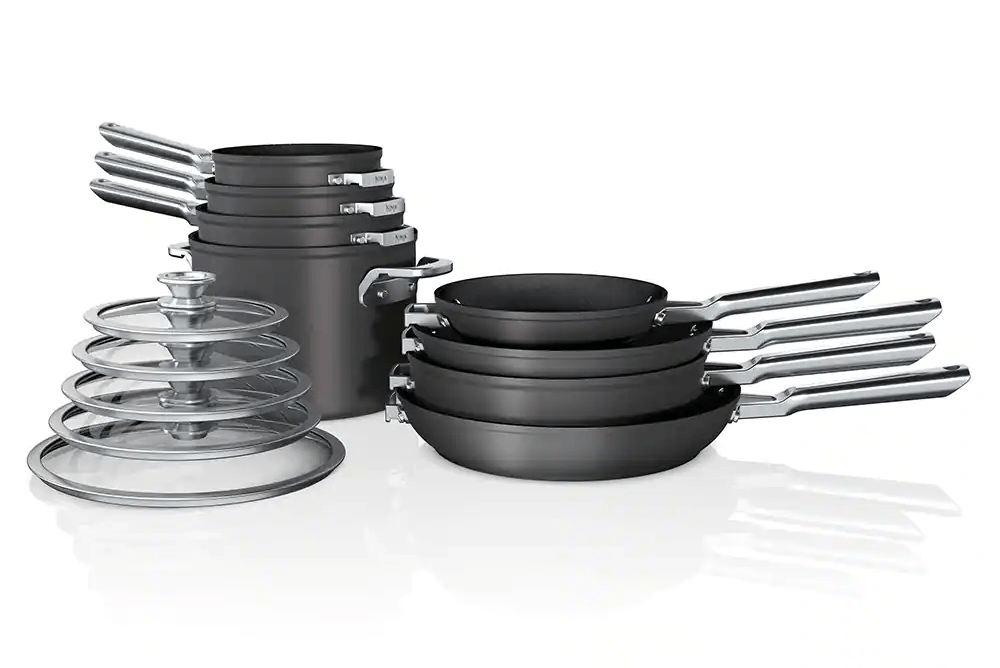 The design was focused on suspending the pots and pans by means of balanced handles. Subtle notches on the small side locate the pan on the top rim of the pot beneath it. The cool part about the handle geometry is that it can rest on any size pot or pan rim below it. For example, the smallest pan still nests correctly on the largest pot. The mid-sizes do not have to be placed between them. It's quite convenient and user friendly!
Non-stick cookware is super convenient to use and easy to clean since the coating creates an almost frictionless surface. It allows for little use of butter or oil, making it a low fat way to cook and fry food. But, taking good care of your cookware is extremely important since the degradation of non-stick coatings can end up releasing into the food. Teflon (the branded coating which makes surfaces non-stick) has been PFOA-free since 2013, but it is still unclear as to the possible safety risks of the other substances in Teflon if the pan happens to be damaged and the micro-particles are released. So, Ninja's new set really addresses the needs of modern cooking.
Part of the effort was to explore the lid handles as well and consider how they might collapse for storage. Ultimately, the team went with a clever interlocking method rather than overcomplicating the lid handle with a two state design. It was a quick, short timeframe project – as they often are with SharkNinja, but we really enjoy the design sprints none-the-less!
Get a set for yourself at the store.